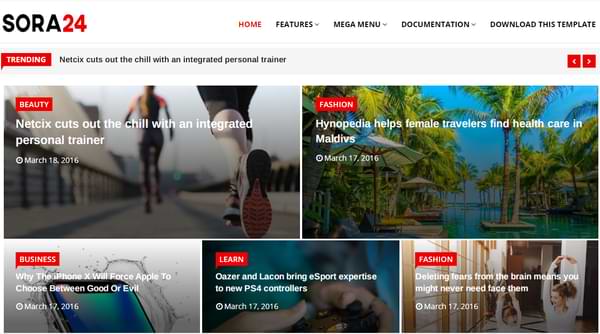 The best professional theme for this year 2021 and the most used on many blog niches with amazing features that any one needs these days. Sora24 Blogger Template a well customized theme developed by soratemplates the leading blogger template designer, this template can be installed and used on all blogspot blogs hosted on google blogger with free download and use on both custom domain and free blogspot.com sub-domains.
Sora24 Blogger Template Free download ads ready for monetizing your blog and get much money of what you love and interest. You can place ad codes in header, within posts, sidebar widgets in various sizes, width and height or in any place you prefer without disturbing your visitors and users.
Sora24 Blogger Template can be customized per your need to suite your blog or you can use it as it without any changes and just only editing menu links and widgets. you can change colors, font family, font size as a simple minor changes or any other similar changes yo need or make it entirely different.
Fastest Blogger template: fastest blogger template premium mobile responsive
Free blogger template: UltraMag blogger template SEO optimized adsense ready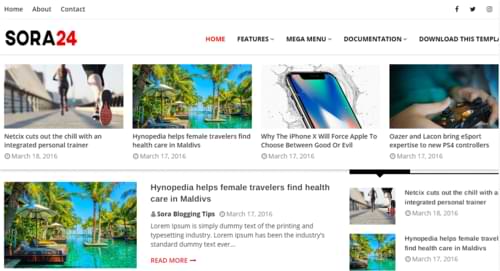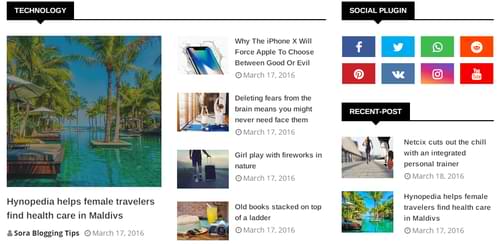 Sora24 blogger template features
Enjoy the best blogger template on your blog, sora24 blogger template free download with all free features.
mobile responsive sora template
Social widgets - share and follow
Tgs mega menu
news ticker with latest blog posts
featured posts on home page - index page
custom tag widgets - tag posts with medium and thumbnail imgs
index page - home page pagination - Jquery required
Sidebar SOCIAL PLUGIN - whatsapp, instagram, facebook, etc
sticky sidebar - on large screens
Youtube and facebook widgets plugin
Three columns footer - can be customized
Seo meta tags - open graph meta tags
social share icons for most popular social media websites on every post
tag Related posts
default blogger comments plugin
Sora24 Blogger Template - info:

| | |
| --- | --- |
| Name | Sora24 |
| zip size | 70 KB |
| xml size | 497 KB |
| mobile screen | mobile friendly |
| Loading Speed | super fast |
| SEO | seo optimized |
| Header menu | supported |
| Sticky Sidebar | supported |
| meg Menu | google ajax menu |
| Price | Free blogger template |
| Footer link | soratemplates |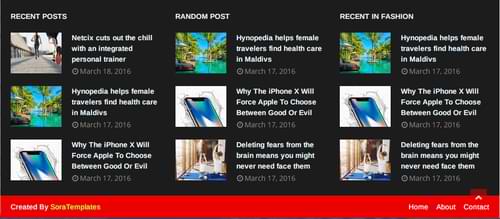 Sora24 blogger template versions
This blogger template comes in tow versions with the same look in both free and premium template but with Encrypted javascript code injected by developer website link in the footer on the free version.
Sora24 blogger template premium
this premium version is available with full javascript code unlocked and optimized without footer link pointing to Soratemplates website. you can get your sora24 premium version from their website.
You can use both sora24 blogger template on all your blogs with unlimited custom domains free and premium without limitation
You can get unlimited support on sora24 blogger template premium version without footer link and no Encrypted Scripts codes and you will get a live time update as they stated that on their website
Free Sora24 blogger template
you can download this free blogger template version and use it on any blogspot website with footer link added to the script code and the main javascript is locked.
On the free version you do not expect to support for this tem-plate and can't Remove Footer Credits link without redirecting you to the designer website main page.
How to install Sora24 blogger template?
First download theme xml file, we have uploaded it in a zip fle format, extract it with your preferred archive manager to get template code.
Copy the whole content and go to blogger
chose your blog where you want to use Sora24 blogger template
while you are on main menu, click on Theme
then next, click on left arrow customise
from the drop down menu select EDIT HTML
select all through CTRL + A and then Paste sora24 code your copy earlier
Save template