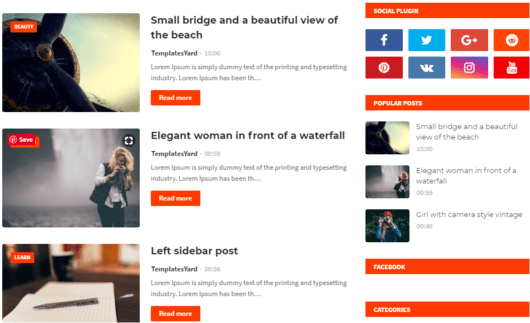 Download vector Blogger Template Mobile Friendly theme for blogspot blog a premium seo optimized for ranking high on any search engine like Google search www.google.com, bing web page search www.bing.com with simple customizable widgets codes and fast speed page load time tested on google insight page test.
This Vector Blogger template theme is free to download with some premium features available to be utilized on blogspot.com blog hosted on Blogger platform. Seo optimized for best performance and beautiful looking interference suitable for blogs on niches targeting fashion audience, travel and truism blogs, sport and other niches.
Vector blogger template is ads ready with optimized sticky sidebar widgets to place your adsense ads there and be available all the time while user is viewing and reading your post which means more impressions and more income (meaning money). Your ads can be placed on header as there is a 728x90 ads space, ads with 300px width can be placed on sidebar and footer with the ability to place ads within posts and pages.
Vector theme featured post is different when using this blogger template on blogsot.com blog, css and html responsive customized featured post widgets per tag or lebel, so you can chose which post you want to display on top of your home page.
Mega menu is supported on this template and customized with css black color and dropdown list post on hover, post thumbnail, post date and title will be display instantly but this works only on desktop screen and tablets and not available on mobile screen.
Also we shared mobile responsive template: Flexblog Blogger Template Premium Free Download 2021 seo optimized
Vector Blogger template features
vector Blogger theme has a lot of awesome features that you will enjoy o your blogspot.com blog or website when you are using this template can be stated on these following points:
Small code size - Lite weight
It is mobile responsive on all screens
Seo optimized template
Fast speed load time
adsense Ads Ready for high income
Optimized Featured posts with css and html
Facebook, Twitter, whatsapp share buttons
Mobile Responsive menu with dropdown sub-menu
Email subscription for Newsletter list
optimized tag and label related posts
optimized error page (404 page)
Much more feature available too
Vector Blogger Template Versions
This responsive template comes in tow versions as we have seen that on our previous Flatblog blogger template free and premium blogger template versions all available for all users, the premium version is only available when you get it from developer website with all features unlocked while the free template version can be downloaded instantly without any further requirement and used on free blogspot.com but with limited features.
Vector free template:
Free to download without money
The main javascript code is encrypted - locked
Obfuscated main code is large - meaning slower load time
No update available on free version
Footer credit link can not be removed
No any premium support
limited on only one domain - as author stated
Comes with default widgets
Also we shared mobile responsive template: Viralisme Blogger Template Mobile Responsive ads Ready Free download
Vector premium blogger template:
Premium vector template is paid version
Minified main javascript code - smaller in size - fast page load
Update is available on vector premium template
Credit Footer link is removed without redirecting
Main Javascript is decrypted
Support multiple Domains
Premium Support available
Well optimized
Vector Theme Additional Features
| | |
| --- | --- |
| Mobile Responsiveness | mobile Friendly |
| Google insight page | passed successfully |
| SEO optimization | optimized for Seo |
| 404 page | css html error page |
| Page Speed | fast load time |
| News Ticker bar | N/A |
| Featured Slider | N/A |
| Random Post | Only with js |
| Email Subscription | available |
| Ads Ready | adsense ready template |
| Social Counter | top social media sites |
| Footer Columns | (3) three columns |
| Other vector Widget | see Vector live Demo |
Finally:
Vector template is best choice for your blog to get best performance. This template is one the top top rated blogger theme tht got high download and installation on technology blog niches, news mag blogs and others.
Free vector theme version comes with encrypted main javascript which includes footer credit link that can not be removed without redirecting your users to external website, editing this encrypted code is not a good idea if you are really concern about your blog visitors and page ranks.
To get best performance with optimized html, css and Javascript it best to use vector premium blogger template version with an affordable price, it is not so expensive, the main javascript is no encrypted and footer cerdit link is removed.
Also we shared this Blogger tutorial: How to add noindex nofollow HTTP header on specific blogger post and page
Download and Install Vector Blogger Template on blogspot blog
Download links are available for this blogger template and are direct on download page, installing vector blogger is so easy as we have seen that with a few steps on our previous post how to install Filmax template on blogger Just do this:
download xml file in a zip file format
extract the zip file
edit .xml in text editor
copy all content
on blogger setting edit html
select all
then paste copied .xml
save theme
Download Vector Blogger theme
This a free version uploaded and ready to be Downloaded in zip file format for further instruction about how to install blogger template you can check our previous posts.