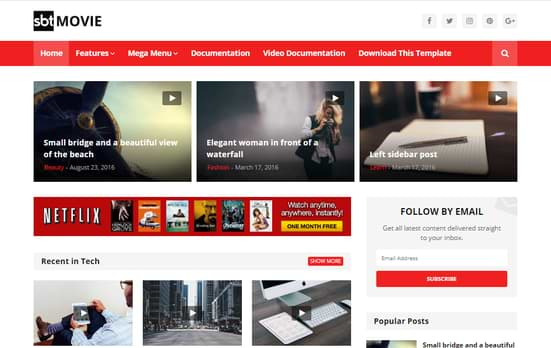 SBT Movie Blogger Template free Professional video website theme with a premium features for posts hosted on google free blogger platform. Compatible and suitable for Youtubers to share Youtbe videos to expand video views for all youtube channels videos, by targeting various audience to get different resources for youtube videos.
It is the best movie blogger Template designed with well customized codes by SoraTemplates designer to be ready for use and simple to customize with any one will use it, its codes are minified for best seo performance. Page speed is tested on google insight and other page load test engines which give a reasonable performance tests.
SBT Movie Blogger Template is ads ready, you can add your adsense ads code into any position on your blogspot.com blog, ads can be displayed on home page with several dimensions, 728x90 header ads unite supported and 300px width ads can be displayed on sidebar with sticky sidebar widgets for best ads exposure.
Also See this post: How to Create Site Map page for Users on Your Blogspot Blog
Also check this blogger tutorial: How to Remove Date From blogspot.com Post url address Year and Month
SBT Movie Blogger Template Features
SBT Movie Blogger Template is a mobile responsive theme and free to download for everyone without restriction with different use with various blog niche supported including not limited to:
Movie blogs, news mag blog, magazine blogs, personal blog niche and so on with top features can be set as follow:
Mobile friendly and responsive on all screen, Desktop, mobile and tablet
Page speed load time is optimized
Ads ready, support adsense ads, different affiliate programs and many other network ads
Sticky sidebar widgets with jquery plugin code
Header featured post supported per tag or the most recent posts
home page ads 728x90 width
Responsive menu, mobile and desktop with dropdown supported
Desktop mega meu widget with latest posts and tag/lebels
Custom blog search
Post share buttons - twitter, whatsapp, facebook and others
Error page (404) customized with css and html
Customized Follow by email widget
Customized home page paginator - requires jquery
Footer widgets with three columns
Back to top button
SBT Movie Blogger Template versions
This blogger template comes in tow versions, free and premium blogger template version on its developer's website.
SBT Movie Blogger Template Free version
This is a free version can be downloaded without any further requirement and also can be used on the free blogger blogspot.com sub-domain or under any custom domain with
this Few limitation:
You can not use this template without footer credit link
Only one is supported and can use this SBT Movie free Blogger Template version
The main javascript is encrypted which makes larger than the original code
You will not get premium support and premium updates
You may see slower page load time -> main javascript is large
Also have another template: Flexblog Blogger Template Premium Free Download 2021 seo optimized
Premium SBT Movie Blogger Template version
On this SBT Movie premium blogger template version downloading .xml file is available only on the designer's website (SoraTemplates). When you get this SBT Movie premium version with main script decrypted and footer credit link removed you can set it up on blog with custom domain or any free blogspot sub-domain with all features unlocked and more premium support.
SBT Movie Blogger template premium features includes:
All above locked features on free version are available
Multiple domains are supported on this premium version
The main javascript is not encrypted and minified
You will get premium support and premium updates on time
Page load time is fast due to minified main javascript
| | |
| --- | --- |
| Mobile friendly | mobile + desktop + tablet |
| Google page insight | Passed google insight test |
| SEO optimized | well optimized codes |
| Mobile responsive | responsive all screens |
| 404 error page | created |
| Pge Speed | Fast speed load time |
| News Ticker | not supported |
| Featured Slider | not supported |
| Random Post | Recent posts instead |
| Email Subscription | available |
| Ads Ready | True |
| Video Category | Per tag - Per post |
| Footer columns | three footer Columns |
| Other Widget | see SBT Live Demo |
How to install SBT Movie blogger template on Blogger
It is simple and easy to install this template aswe have seen than on Filmax blogger template
Download SBT Movie zip file contains .xml theme.
Extract the downloaded template file.
Open .xml format file in any txt editor.
Select all content through -> CTRL + A then copy with CTRL + C.
then next !..
Go ahead to your blogger account and select your blog.
On the main menu go down to settings then select Edit HTML
Select all HTML content then paste your earlier copied .xml code through CTRL + V.
Then Save theme
Final word:
Movie blogger template is now gone viral during the last few years among all video website theme especially for blogspot.com blog and websites. SBT Movie is free to download use on free version which include credit footer link and can't be removed without redirecting to developer website, removing this link is not advisable. Premium SBT Movie blogger is the best choice