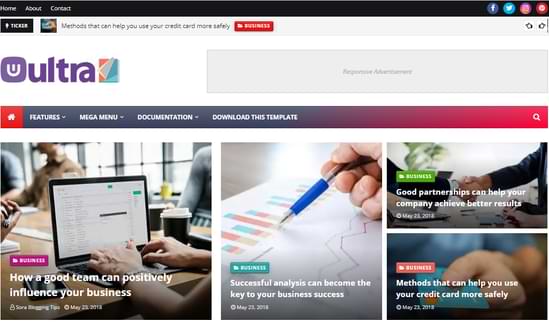 If your are looking for best magazine, news blogger template, fashion blog theme or any other similar blogging niches, here is what you are looking, UltraMag Free Version blogger template and free to download already customized and well designed to suite sort of blogspot blogs and website.
UltraMag blogger template is a seo optimized to perform and give best result on search engine such as google, bing, yandex and other top searching websites including yahoo or baidu. Performance is now critical for any website and blogs in any niches, small or large specially page speed load time, this blogger template UltraMg theme can e configured to be supper fast ad score nearly 100% on any page speed test.
UltraMag blogger template is responsive and mobile friendly blogger template it can be displayed on any mobile screen resolution and any tab or tablet screens. With many widgets supported, sticky-fixed sidebar, follow by email, random posts on footer, popular and most recent posts and be showed on sidebar footer with nice colored design.
seo optimized blogger template: Elegantes Responsive Blogger Template Fashion Theme
Also we shared Movies Blogger template: Filmax mobile friendly Blogger Template Free Download 2021 ads ready
UltraMag blogger template features
This blogger template has many features that can't counted o one post or paragraph, we will just mention a few of them and you can vew more when installing UtraMag template on your blog.
Already Seo optimized template for search engines
Ads ready - on home page, sidebar, or in-posts
With Sticky sidebar and fixed on scroll - Jquery required to run this feature
News ticker with chosen posts latest or by tag - depending on tags
Best slide show on home page and featured posts - jquery is required
Facebook and youtube blug-in script - but it decrease page speed load time
custom comments blog-in blogger comments system
Hot posts - you an chose which sts to be displayed on index page by their label
Head meta tags - social meta tags -facebook, twitter on so on
Social media sharing buttons
Fixed header menu
.. many more ..
More features on UltraMag Blogger Template
| | |
| --- | --- |
| Template Name | UltraMag template |
| zip size | 62 KB |
| xml size | 548 KB |
| Responsive | All mobile screens |
| Loading Speed | fast loading page |
| SEO Friendly | well optimized |
| Header menu | fixed menu |
| Sticky Sidebar | fixed sidebar |
| Multi Dropdown Menu | added |
| Template price | Free template |
| Footer link | TemplatesYard footer link |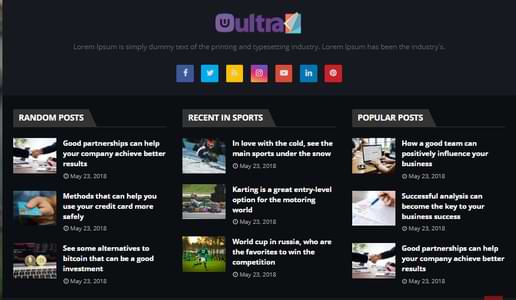 Note:
On the free version of this blogger template, theme designer has placed a footer link pointing to his website, you should not remove it or your blog will be redirected to that website. Best choice is to have UltraMag premium blogger template version with footer credit link removed.
How to install UltraMag blogger template on blogger platform
As usual, installing blogger template can be installed in different ways, by downloading template zip file, extracting it to get the .xml template and uploading it directly to blogger or by opening .xml theme file on text editor and copying whole content then pasting it into blogger theme HTML or when using mobile you can just extract zip file and upload .xml theme to blogger and save them. You can go back to see how to install Filmax blogger template on blogger.
Download and view UltraMag blogger template
Here are download link for UltraMag blogger template with direct download link and live view on blogspost.