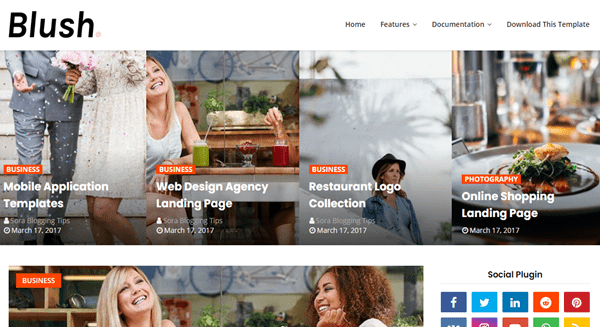 Download Blush Blogger Template for your beauty niche, fashion, makeup and other personal blog. Blush Blogger Template is well designed by way2themes a blogger template designer and creator.
If you are looking for free blogger template to download for your blogspot blogger hosted blog/website, then here is the best 2021 blogger template, blush theme with simple customized html, css and javascript to perform very well on all devices' screens from thr large desktop/LapTop screen to the smallest mobile screen with latest markup generation codes.
You can download this free Blogger Theme though it is offered in premium blogger template version with full functionality. It can be installed and used on any blogspot blog whether it is served on the free blogspot sub-domain or on a Custom TLD Domain and you can use it on unlimited multiple blogs without restriction or limitation
Earn money from your things that you love, from your blog content by placing ads or affiliated links, Blush Blogger Template is ads ready you can place your google adsense ads code within your blog content/articles without affecting your blog speed performance, it will always give you the best result on google insight page speed test.
Free blogger templates: fastest blogger template premium mobile responsive
Viral Blogger template: Viralisme Blogger Template Mobile Responsive ads Ready Free download
Blush Blogger Template top features
Blush Blogger Template does not have much different features other than most popular blogger template that use or installed on blogs hosted on google free blogger platform. You will enjoy most of them on the free version and if you want more you can get Blush premium Blogger Template all features are available without any encrypted script.
Free and premium Blush blogger template versions looks the same withy minor differences, the free blush template includes a footer credit link which can not be removed without being redirected to to the developer's main page of course, because that footer link is injected within the main encrypted javascript
Simple to install and customizable
Best result on google insight page speed test
Adaptable to all type of screen - responsive blogger template
meta tag for sEO + google search snippet and social media share
Youtube and Facebook plugin included in the xml code
LOAD MORE POSTS instead of paginated pages in numbers on home Page
Support header featured posts by tag or most recent posts
Customizable Sticky sidebar widgets - most Popular posts or per your need
Related post on post by tag/label and blogger comment widgets
Images are lazy loaded to speed up page time
scroll tp top button added
Blush Blogger Template excluded features
Beside above mentioned features and functions there are a few not included or added to this blogger template by author or developer for better performance and to make in lite code and super fast blogger template with fast page load on every device screen
News ticker widget is not supported
Mega menu widget not added
Fixed header menu not supported - you can edit css + javascript to make it work
Home page posts is limited - no more widgets as on Sora24 blogger template
Next and previous posts are not included on home page and posts
Disqus and facebook comments are not supported
No footer widgets
How to install Blush Blogger Template?
First download theme xml file, it is in a zip fle format, extract your downloaded zip file with your preferred archive manager to get full blush template theme code.
Open xml file on any text manager you have.
copy all theme content codes - CTRL + A
Go ahead to blogger.com and from the main menu select your blog
On blogger menu, scroll/go down and select Theme
Now on this page, click on the arrow located beside customise button
Teh, from the dropdown menu chose EDIT HTML
Remember to make a backup for your current theme
then copy all codes in this page and delit them
Next, paste Blush Blogger Template codes you have already copied in earlier step
Then click save Template