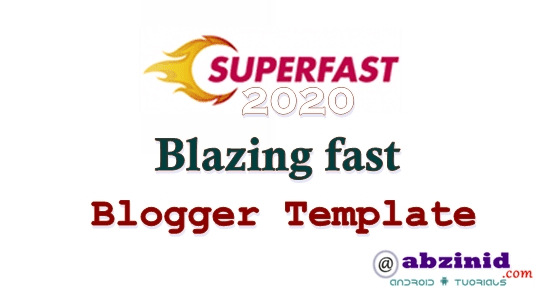 Fast page load is required for ranking on google to get much organic traffic for your blogspot.com blog, you can gain this with just using the default themes provided by blogger but you may miss a lot of functions and awesome widgets that can be found on custom blogger template as in this Superfast blogger template free and premium version.
Well seo optimized super fast theme to give you the best seo result on all tests. When using Super fast template on your blogspot.com blog you will have advanced features that comes with this blogger template theme, your blog is blazing fast, your blog post are responsive and mobile friendly with various type of wedgies to suite your need for faster performance and best user experience.
Superfast blogger template it is in free and premium version with highly customized html, css and javascript, the premium version is the best to make your blog professional with additional updates and premium support at any time, the free Superfast template theme is available for any one to download and install with footer credit link not removed and the main script is locked.
Superfast blogger template Free and premium is well designed precisely to provide the fastest page load with responsiveness to be mobile friendly and also be responsive with any screen, desktop, tablets, mobile and any other screen. With responsive and fixed sidebar widgets (jquery dependant and required), you can display your google absence or any other ads network provider to monetize your blog and get money.
SEO Optimized Blogger Template: Elegantes Responsive Blogger Template Fashion Theme
Responsive Blogger template: Flatblog Blogger Template Theme Free Download 2021 ads ready
Superfast Theme 2020 top Features
Superfast blogger template designer created this blogspot theme with an optimized codes HTML, CSS, Javascript to make all widgets responsive, codes for sticky sidebar widgets (with jquery), footer widgets, main menu ccs loader and so on.
Hre are the main top features:
Jquery Sticky sidebar widget
Responsive blogger template ads widgets
Social media plugin,facebook, twitteer, instagram,.. etc
popular posts already displayed on sidebar
Subscription widget for youtube and facebook
Display tags as category list menu or you can display them as buttons (cloud tags)
Responsive header ads 728x80 dimension
Search blog widget
Comment systems supports three plugins, Blogger comments, Facebook comments and Disqus comments
Social media Share buttons on posts, Whatsapp, pinterest, likedin and others
Tag related post widget
Next and previous buttons to help users navigation through posts
About Author, to provide a paragraph in brief about post author
Footer widget with three columns
Create Blogger Pages: How to create Contact us page on Blogger with html and css
Additional Superfast Theme Features
| | |
| --- | --- |
| Responsiveness | mobile and desktop |
| Google insight Validator | passed with high score |
| SEO optimization | well optimized for Seo |
| Mobile Friendly | Responsive on all screens |
| 404 page | already created |
| Page Speed | Superfast |
| News Ticker bar | not available |
| Featured Slider | on mega menu |
| Random Post | available |
| Email Subscription | available |
| Read More | auto with Thumbnail |
| Ads Ready | absence and other networks |
| Social Counter | available social subscription |
| Footer Columns | three columns |
| Other Widget | see Superfast Demo |
Superfast blogger template main features
Here are the top features that superfast blogger template free and premium have:
Free super fast template:
On free version you are limited to one domain
Some of Javascript codes are locked
Footer Credit Link can not be removed without redirecting
no support at all
No template update available
Encrypted javascript is large in size
Page load speed is not fast as in the premium version
Premium super fast template:
Premium superfast template can be used on multiple domains
All javascript are unlocked
Footer credit link is removed form this template premium version
There is a premium support
There is a new update notification on new release
Javascript is in smaller size
Page speed is faster as it is name, super fast
premium price is only ten us dollars
Also See this post: How to Create Site Map page for Users on Your Blogspot Blog
Also check this blogger tutorial: How to Remove Date From blogspot.com blog post url
How to install this seo optimized blogger template
To install this template on your blogspot.com website or blog just do this:
Download a zip file format template file
Extract your downloaded template zip file
open .xml file on your preferred text editor
copy superfast .xml file content
ahead to your blogger account and look for theme
then EDIT HTML
Select whole content and paste super .xml you copied earlier
Save theme..
You are ready
Final words
Now you can enjoy the super fast page speed on your blog on all your blog posts.
Things should be noted before download and install this blogger template on your blogspot.com blog, this superfast template theme as we stated come in tow versions, free and premium.
When you want to use the free version, do not remove credit footer link from this template or you will lose a lot of precious traffic, your visitors will be redirected to developer website, it is highly recommended to leave it as it is and instead you can get superfsat premium version without footer credit link.
Follow us on twitter and facebook for more free premium blogger template and make your feedback and suggestion.
click an icon to join the conversion