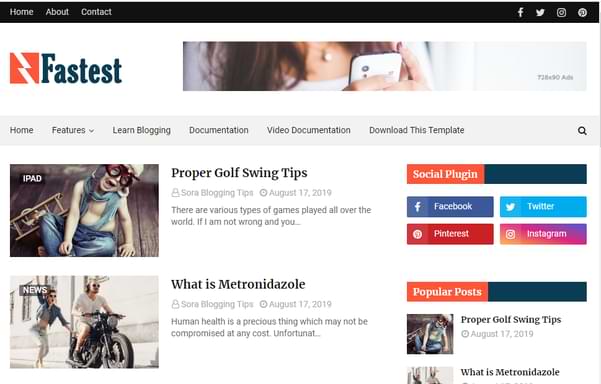 Now it seems No one uses the default blogger template provided by google blogger since there are many awesome custom premium blogger template available on the Internet and any one can download any suitable version without any restriction with almost all premium features.
The fastest blogger blogger template designed by TemplatesYard a user friendly and mobile responsive on all screens with simple customization, you can re-customize it yourself to suite your need and your blog niche.
If you are looking seo boost for your newly created blog you can use this fast loading blogger template to get your content available on google search and the first result but this depends on your content and what you are targeting and also on some other factors.
Page load time is one factor that many users may neglect at the beginning, but this well crafted blogger tem[late you don't need to worry about this, it's fast loading blogger template and seo optimized and free to download theme. You do not need especial amp blogger template or any amp codes because this Theme is already mobile responsive and it is super fast blogger template ever you will use.
Fastest blogger template is ads ready, you can place your ads on any corner of your blog, header, sidebar or within post content. But consider this, there is no footer Widget on this theme to place your ads or other content unless you make some changes to the main theme codes.
Mobile responsive Blogger template: Flexblog Blogger Template Premium Free Download 2021 seo optimized
seo optimized blogger template: Elegantes Responsive Blogger Template Fashion Theme
Fastest blogger template top features
A well designed blogger template is essential for better rank on google search and other search engines. no one like waiting web page to load whereas there are many other pages load faster than this they land on. If your pages not load faster than your competitor, you probably lose many traffics.
An ultimate fast loading blogger template
An amazingly responsive blogger template on all devices
mobile friendly and responsive
Seo optimized for best results
Compatible with all browsers
Google Adsense ads ready
Suitable for all blogging niches
provided with the right Meta tag
Breadcrumb Navigation
Custom google fonts and fontawesome
Default Blogger system comments
Drop down menu
Social share icons, facebook, twitter, WhatsApp, linkedin and others
The best personal blogger template
Fastest blogger template - info
| | |
| --- | --- |
| Name | Fastest blogger template |
| zip size | 32 KB |
| xml size | 229 KB |
| Responsive | on All screens |
| Loading Speed | fast |
| SEO optimization | seo friendly |
| Header menu | supported |
| Sticky Sidebar | not supported |
| Multi Dropdown Menu | added |
| Price | Free blogger template |
| Footer link | theme author link |
How to install fastest blogger template?
Installing this fastest blogger template is very easy you can do that on your computer or even on mobile device. Download the zip file which contains Fastest.xml file. on you computer use any browser and login to your blogger account then chose your blog that you want to install this template on.
then scroll down to Theme on customize button click on arrow-down and select Edit HTML, then go to your downloaded Fastest.xml file open it in any text editor and copy all content and paste it on blogger theme editor theme save your theme.
You can make your own changes by adding or removing codes per your need.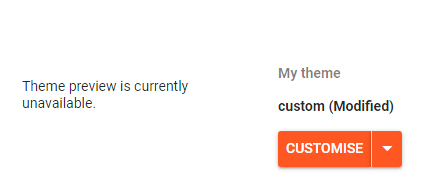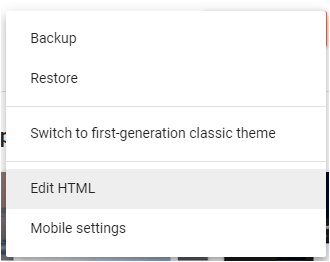 Finally:
Fastest blogger template free download version its developer has injected its main javascript with his own website url and also on the footer to keep his theme credit, do not try to remove or edit that footer link unless you know what you are doing.
Removing footer credit link from blogger template the free version can cause your blog to be redirected to a external website within a few seconds. keep that link as it is.