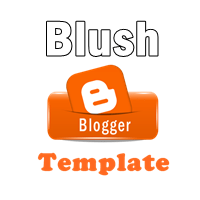 Download blogger Template
Name: Blush Blogger Template
zip file size: 40 KB
xml size: 330 KB
theme tag: free template
template version: Free - Template v2.0
Developer: way2themes
Download Blush Blogger Template free version, mobile friendly and responsive on all devices, it automatically adjusts layout and dimension to get the best blog view on any device screen that it will be displayed on.
The best for beauty blog niches, it looks good on makeup and fashion blogger blog targeted audience. It's codes, html and CSS are well optimized and minified to give the best result for speeds, google page speed insight, but the main Javascript is obfuscate which makes it so large with a big size, images are lazy loaded as google insight suggest for page seo optimization
You can monetize your blog when installing this theme on your blogger blog or website, Blush Blogger Template and it free to use with footer link injected pointing its developer's, but you can remove it by get the premium blogger template version with full functionality
Magazine blogger template: UltraMag blogger template SEO optimized adsense ready
Best Blogger template: Flexblog Blogger Template Premium Free Download 2021 seo optimized
Blush Blogger Template - info:

| | |
| --- | --- |
| Template Name | Blush |
| zip size | 40 KB |
| xml size | 330 KB |
| Responsive | All screens |
| Page Speed | fast |
| SEO | well optimized |
| Header menu | Supported |
| fixed Sidebar | Left and Right |
| Multi Dropdown Menu | available |
| Template Price | Free + Premium |
| Footer link | on Free free version |
Free Download Blush Blogger template
Download and install Blush Blogger template free version, you can get the premium blogger template version with full features on the developer's website way2themes.com.
This template is very easy to install on new blogger platform interference in just a few steps, you can see our previous movies blogger template tutorials or you can see the full installation instruction on youtube.
Blush Blogger Template Download Blush Blogger Template - Live