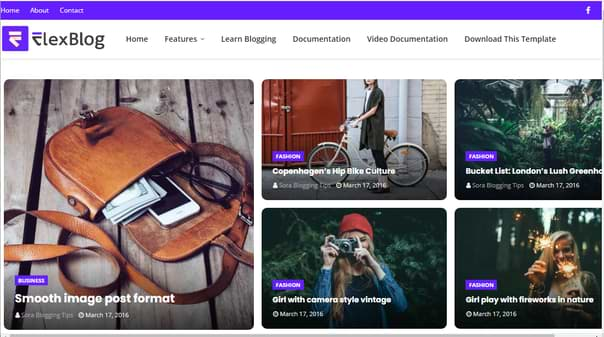 If you are looking for mobile responsive blogger template and friendly then here is the best one, FlexBlog Blogger Template designed by templatesyard blogger template code designer this theme is also known with name, flexmag blogger template created to be used on Fashion Magazine Blogs, personal Photography blogs, and other stylized blogs.
Flex blog is well optimized and customized to give the best result on google search and search machine, Bing, yahoo, yandex and others. It is flexible and easy to customize blogger theme and the right choice for every one who wants the best for his blog, no one will argue in this with minified html, css, javascript and in-code comments to lead you ahead for personal edit.
Search engine needs fast speed page load which is found on this blogger template Flexblog theme when tested on google page speed insight gave a reasonable speed which enabled it to get high position on search result.
Monetized blog is now is every body looking to get a portion of awesome income, on blog themed with Flexblog blogger template ads can displayed on any place you want your blog, home page, sidebar, within post and also ready for Google absence and affiliate programs per your need.
seo optimized blogger template: Filmax mobile friendly Blogger Template Free Download 2021 ads ready
Also we shared mobile responsive Blogger template: Flatblog Blogger Template Theme Free Download 2021 ads ready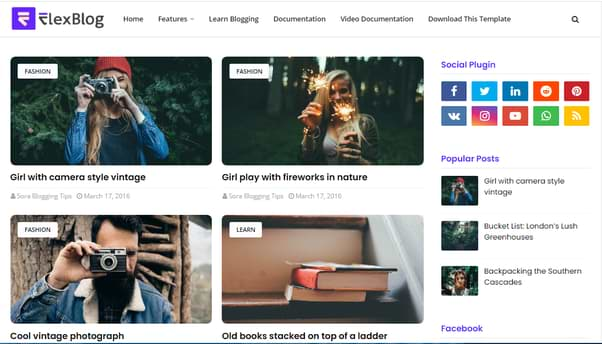 Flexblog theme features
With an exclusive design, this blogger template comes with most needed features every will look for when try stablish a blog on blogger platform. You can expand some features and widgets to get more functionality of Flexblog template.
Here are top rated features
Fast, flexible and powerful Blogger template.
Suitable to create exclusive designed blog.
Mobile responsive blogger template.
Fixed sidebar widget.
Facebook page widget can be substituted with other social media plugin script.
Tag menu lists, cloud or category list.
Home page pagination loader wit javascript.
Related posts supported with relevant post tags.
Popular posts widget placed on sidebar.
supports customized Featured post on home.
Supports mobile responsive menu.
Supports responsive Dropdown menu.
Social follow Blugin.
Post share on social media includes; facebook, twitter, whatsapp, linkedin.
Built-in blogger comment.
Create contact us Page: How to create Contact us page on Blogger with html and css
Flatblog Theme more info:

| | |
| --- | --- |
| Flexblog Responsiveness | mobile and desktop |
| Google insight Validator | passed successfully |
| SEO optimization | Well optimized |
| Mobile Friendliness | Mobile friendly template |
| 404 page | customized with css html |
| Page Speed | fast |
| News Ticker bar | not available |
| Featured Slider | not available |
| Random Post | Not available |
| Email Subscription | set on blogger |
| Read More | automated with javascript |
| Footer Columns | zero columns |
| Other Widget | see the Demo |
Flexblog template versions
Flexblog theme is available in tow versions, free version which suitable for beginners and can any one download for free without costs. You can get Premium Flexblog template version from the developer's website with all features unlocked. Certainly, there are differences in both of them, free and premium flexblog template as shown below
we have another blogger template:
Download Super fast blogger template responsive mobile friendly
Free Flexblog blogger template features
Free to download with limited features
Main javascript is encrypted and can't be edited
Footer credit link can't be removed without redirecting
Multiple domains is not supported
there are no premium supports
There are no new updated version notifications
Javascript is larger in size
Sticky widget javascript added to fix sidebar
Premium Flexblog blogger template features
Main javascript is unlocked and can be edited
Footer credit link is remove without redirecting
Multiple domains is supported and unlimited
Premium support available
Template New updates
Javascript is minified
Sticky widget javascript to fix sidebar

how to install Flexblog blogger template on blogspot.com blog
It is easy to install this responsive blogger template on your blog with different ways even you don't have computer you can install it using just your mobile smartphone. We shared a little few step to install blogger template on a previous flimax template in just a minute you will install it and get your blog live on internet
Note:
Some people try to use free flexblog template as a premium version by removing footer credit link which we always do not advice to do it, because your blog will behave strangely, you will miss some template functions, responsive menu will stop working, your blog will be redirected to developer website within a few seconds.
Using the premium flexblog version instead is the best way when you intend to make your blog as a professional blog and get some passive income
Download and view live Demo for flexblog template
Flexblog Blogger Template Download Flexblog Premium Blogger Template