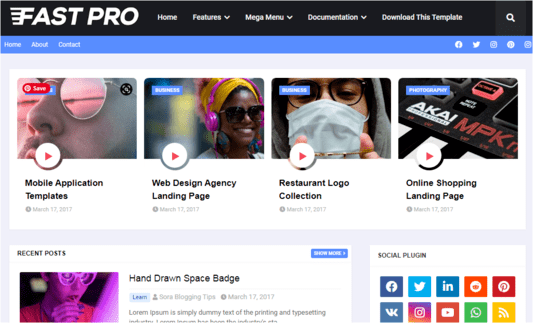 FastPro Blogger Template is the best and fast page loading Blogger Template on google insight page speed test free to download a fully responsive blogger theme on all screens ( mobile, tablets and desktop )and highly optimized for SEO perfectly designed and coded.
All Fast[pro pages , index page, static pages and posts are designed to be fast on page loads with minified html, CSS and Javascript codes which makes it the best blogger template this year 2020 with the latest update design. With the latest release of fast loading themes and Superfast blogger template you can see that it is The best for all blogging niches fashion, new blogs, magazines, movies and videos blogs and much more.
Now ypu can use this latest updated blogger template on your blog for free with no much differences between it and the premium version but you wil not get any updates and premium supports. This theme is well optimized to suite all your needs.
seo optimized blogger template: Elegantes Responsive Blogger Template Fashion Theme
Also we shared mobile responsive Blogger template: Flatblog Blogger Template Theme Free Download 2021 ads ready
FastPro blogger template features
Here are some few features but you can checkout more than what we have mentioned here.
Featured post widget is supported on this blogger template with in 4 grid styled minimal posts depending on post tags or labels and Mega menu with latest posts and dropdown menu widget already added.
Sidebar widgets are sticky and they are fixed on page scroll, so on every page scroll you see widget (best feature for ads - adsense ads), you can disable it by commenting or removing sticky widget javascript from the them.
Comments with built-in blogger comment and disqus is also supported with emoji as well, popular post, related post on sidebar or on footer. Footer is well optimized and designed to include, tag list, cloud tags (as buttons), popular posts, random posts, contact us widget, email subscription and some other blogger widgets are also supported.
Check this optimized blogger template: Vector Blogger Template ads Ready Mobile Responsive seo optimized
Also we shared mobile responsive Blogger template: Flatblog Blogger Template Theme Free Download 2021 ads ready
More features on FastPro Blogger Template
| | |
| --- | --- |
| Template Name | Fast Pro template |
| xml size | 226 KB |
| zip size | 40.6 KB |
| Responsive | All screens |
| Loading Speed | fast loading page |
| SEO Friendly | ell optimized |
| Sticky Sidebar | fixed sidebar |
| Multi Dropdown Menu | added |
| Template price | Free template |
| Footer link | credit footer link |
Note:
Before using this fastPro blogger template ou have to now that this template we hav e shred here is a free blogger template and it comes with credit footer link included within footer copyright section, it is nit recommended to remove it or use css styling to hide it unless you know what you are doing because your blogger will be redirected to an external website.
Download fastPro blogger template
Download and this latest blogger template with with direct download link and live view for its demo blogspot.com blog.