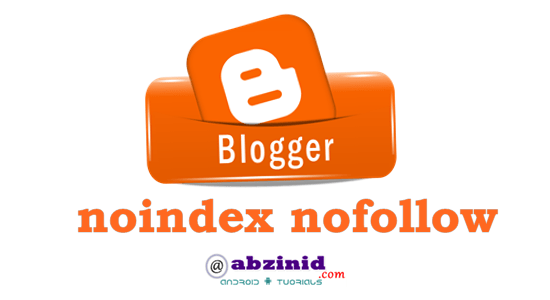 Google search engine boots crawl your blog content regularly posts, pages including images when you permit them to crawl your website content.Google boots will crawl every content if not blocked by robots.txt file or header tag and make them be available on google search page and follow all links contained internal or external.
Sometimes you might have content that you don't want them to be indexed on google or have a page with external links, for example affiliate links which many blogger use to get online income and you do not want google crawler to follow those external links, so using noindex and nofollow is the best practice for this purpose. Not every one using Blogger free platform knows how to remove content from google search or preventing it to index that content from the beginning.
Noindex and nofollow any page content on your blogger blogspot.com website or blog is very easy and can be done through different ways and all ways you will use will give the same result, blocking or removing posts or pages from google or nofollow any links on your website pages and posts.
seo optimized blogger template: Filmax mobile friendly Blogger Template Free Download 2021 ads ready
Mobile responsive Blogger template: Flatblog Blogger Template Theme Free Download 2021 ads ready
Why you want to noindex and nofollow content on your blogger website
Content that are no user value should be noindex and nofollow such as thin content (login, thanks page and other similar content), outside links (external link) that you do trust or with low content or value should be nofollow.
Leaving things as they are may affect your website seo rank and result in low traffic and that means no money if you are blogging as to get money from your blog.
How to noindex and nofollow specific page and posts on blogger blogspot blog
You can add noindex and nofollow header using html meta tag placed on head <meta name="robots" content="noindex, nofollow" /> on blog post and pages on blogger and you can do and gain same effect or result in many different ways, we will go through one of them here on this post.
Blogger Custom robots header tags
Blogger template html meta tag
Blogger Custom robots.txt
nofollow on href attribute
using javascript code (not recommended)
Blogger contact us: How to create Contact us page on Blogger with html and css
Also we shared Blogger tutorial: How to Create Blogger Site Map page for Users
Noindex nofollow using blogger Custom robots header tags
Using blogger build-in Custom robots header tags method is great and perfect way when you want to add noindex nofollow header tag on specific page or post and it is very easy.
If you are new to blogger you may not know how to use Robots Header Tag on blogger, so to do that you need to enable Custom robots header tags on blogger which is disabled by default.
follow this to enable Custom robots header tags on blogger
Go ahead and login to your google blogger account then:
From blogger account main menu select your desired blog
Go down to Settings with a gear icon
Then from the dropdown menu select Search Preferences
On the new page, go down to Custom robots header tags
Click edit then yes to make it enabled
Click Save Change button
Done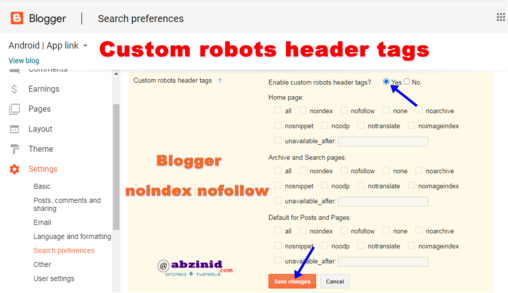 custom noindex nofollow on blog post and page
Now you have enabled Custom robots header tags on your blogspot.com blog and you are ready to add it to specific post and header on any page you want and that page or post will have noindex, nofollow on header and will not be indexed and any links within those pages wil no longer be followed or crawled by google boots.
Here we are going to this robots header on our specified post, to do that follow this steps:
Go ahead to your blogger account as we did above
select your desired blog
Click Posts from the menu
Then create a new post or click on an old post
From left menu - Post Settings
Click to expand Custom Robots Tags default
It is ticked to default - will not add an value
untick the default option to enable noindex nofollow value as in the screenshot below
You are Done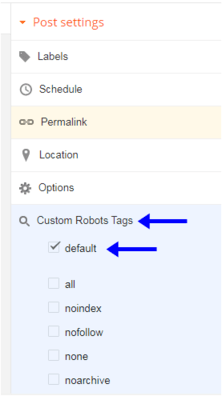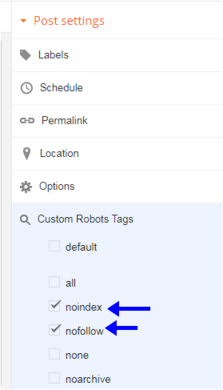 How to check if your noindex nofollow value is enabled
After you have followed and done the above steps you may wonder how know if noindex nofollow are set correctly on your blog post header, here is the way to check it.
You can check noindex nofollow on Google chrome browser developer Tools.
Open your customize post with noindex and nofollow on google chrome
On Google chrome menu (left three vertical dots )
Scroll down to More Tools
Then scroll down to the lat option click Developer tools
Then reload your page
On the new page or tab - click on Network, all, page address and header
See screenshot and click the image to see all options on the expanded image.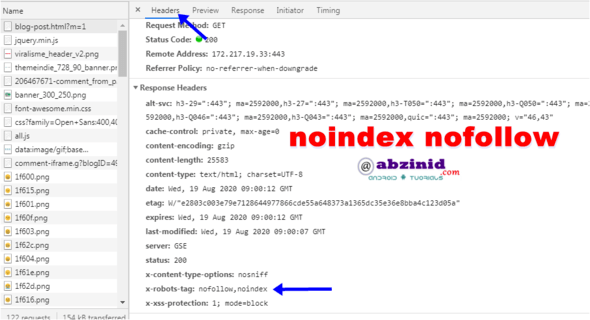 Final word
After we have seen that we can add noindex nofollow header tag on our blogger blogspot blog using built in custom header robots tag, so now we have the opportunity to remove or block our thin and low value content pages and post that we do not want them to be indexed on google search. If we shared an external links, affiliate or other links and we do not want google crawler boots to follow then, then we can get theme blocked easily.